Last year I spent a few months documenting the murals in and around Austin. Here's a list of my top five, also major thanks to Austinot for their great post on Austin Mural History. This article would be lesser without that assistance.
Hope Outdoor Gallery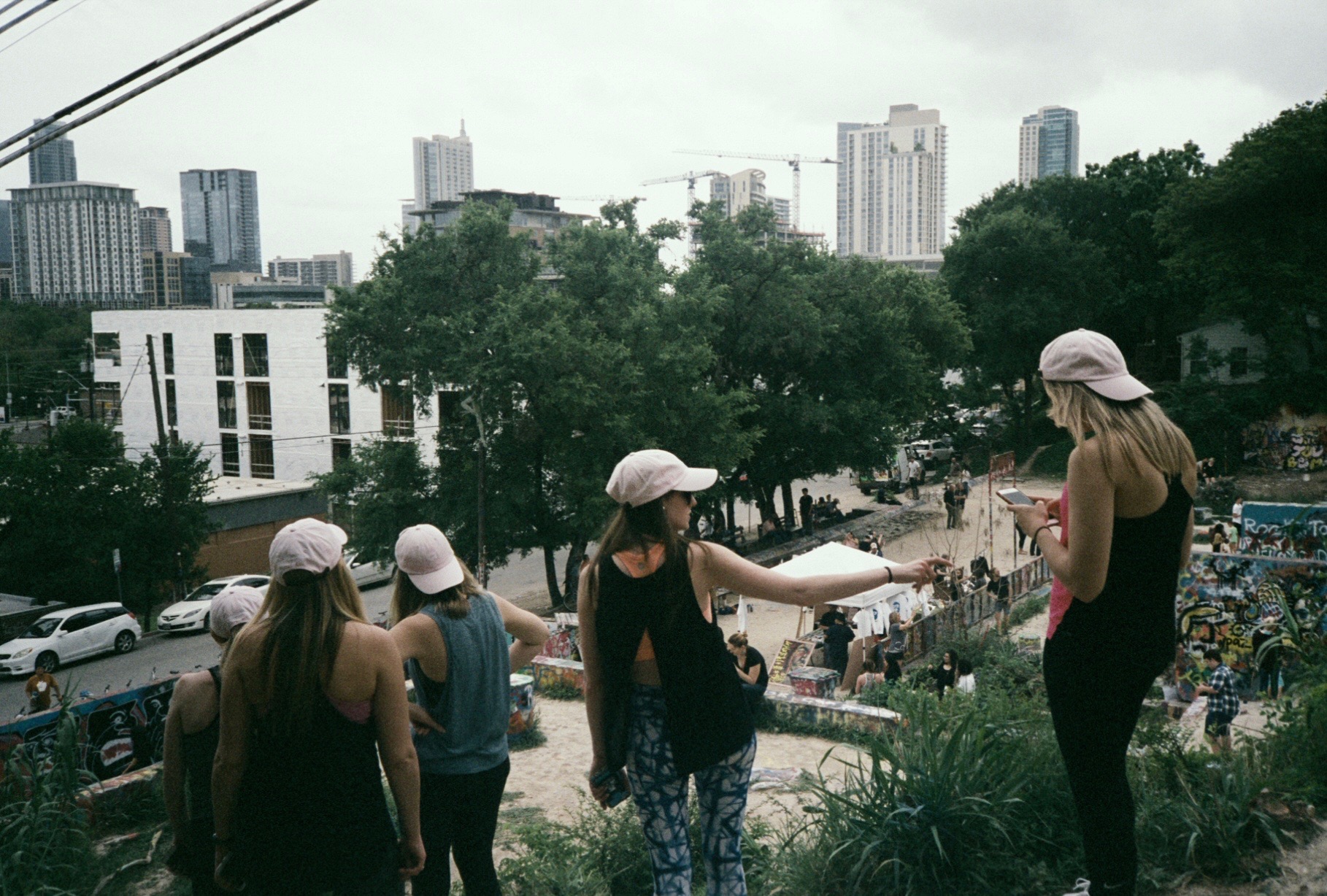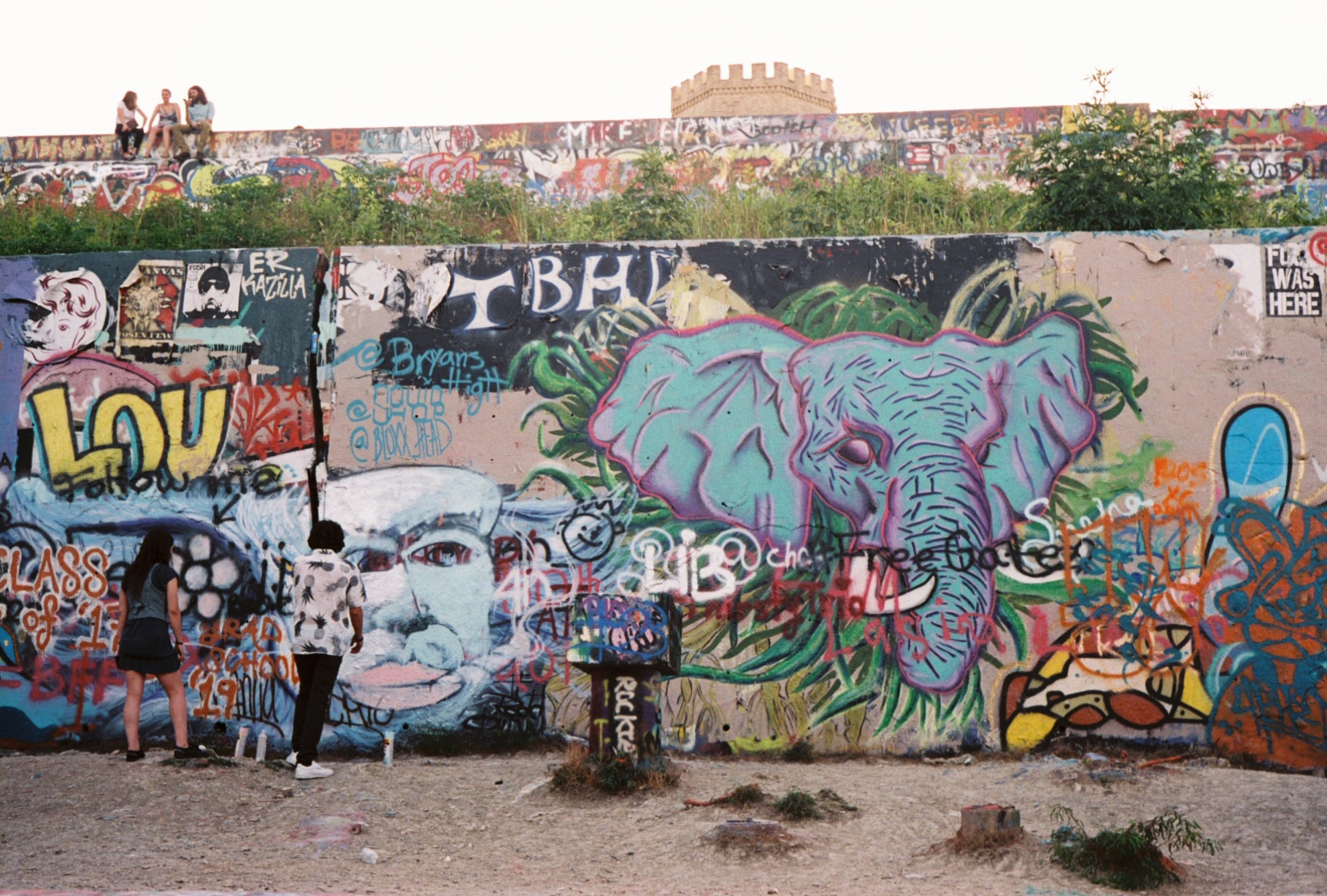 Hope Outdoor Gallery is an open air gallery, living mural space and one of my favorite things to do in Austin. The unfinished building project has taken on a life of it's own as artist in town and across the country go to paint there. Some of the great pieces there last a couple months while everything else is covered and recovered every few days. If you only see one mural in Austin, this is it.
Tips
You'll see a lot of the $2 Walmart brand spray paint cans there and they are pretty terrible quality wise and jam easily. The next level up in spray paint cans is going to be worth the savings and Asel Art Supply downtown will be able to point you in the right direction.

There isn't really parking next to the gallery. It's in a mix residential and business neighborhood and it can get packed quickly. Better to park across the street in Duncan Neighborhood Park by the 7 Eleven or at the Book People parking lot and walk over on really crowded days.
Nearby
Fresca's Al Carbon on Lamar is a pretty great spot for local Mexican food. Down the street is also 24 Diner and Counter Cafe which are some of the best diner spots in town as well. You also have Book People, one of the greatest bookstores in town who are also carrying my book. Waterloo Records across the street from Book People is an amazing record store too.
The 2 Daniel Johnston's
Hi How Are You? 408 W 21st St, Love is the Question, 1115 Lynn St.
If you're not familiar with Daniel Johnnston, he's the musician whose songs about love and loss are coveted for being raw and off center. His struggles with schizophrenia is well documented in both song and media. Daniel actually has two murals in town. The first and most popular and iconic is "Hi, How Are You?" near the UT campus. The second is Love is the Answer in Tarrytown near one of the oldest ice cream parlors in Austin. Both are pretty symbolic of the Austin's art for art's sake nature.
Tips
Parking near UT is a headache, my favorite option is the little outdoor parking spot behind Electric 13 tattoo if you can find a spot. Street parking near the sign is an option as well but it's all one way streets and traffic which makes it a pain.

The second mural in Tarrytown has better chances of off-street parking and depending on the day you'll get a great view of the mural.
Nearby
Like everywhere else in Austin there is great food to be found here. Near UT, I'd recommend the Via 313 which is always in contention for best pizza in Austin as well as Arlo's for veggie burgers that taste just like regulars burgers, trust me. Also, if this is your only time in Austin you should stop by Torchys and get a migas taco with queso dip. While many will argue they aren't the best at either they do make them both extremely well and are a good example of the Tex-Mex Austin and Texas is known for.
Near Tarrytown, there's a bunch of great spots to go but nothing more iconic than getting an ice cream at Nau Enfield's Drug which has been around forever. Cafe Medici not far down the street is also known as one of the best coffee spots in town too.
Greetings from Austin
Inspired by an old postcard this is on the southern side of the Roadside Relics and my favorite mural in Austin. It's vintage and has a really great feel. The neighborhood this mural lives in is a really great place to walk around and get food.
Tips
To get a really good picture of the mural you're going to need to stand in the street. It's sketchy and it sucks but it's the best way to do it. Go early on a Sunday or Saturday and be careful with traffic.
Nearby
This is a great neighborhood for everything. The nearby Bouldin Creek Cafe is known for some of the best vegetarian food in the city and Churro Co. is the best churro I have ever had. The campfire churros with gingerbread, caramel and marshmallows with a scoop of vanilla is my favorite dessert in Austin, maybe ever. The new Loro restaurant a bit up the street is a great place to have a casual meal and if you're there at the right time get some of the world known brisket from Franklin's Barbecue.
Historic 6th Street Mural
The story goes that the people of Sanctuary Printshop, now defunct, painted this massive mural in a span of 1 night. The iconic mural has been re-appropriated greatly and the colors either came to embody Austin or were the direct extension of it.
Tips
It's hard to get a great shot of this mural and you need to cross the street near the underpass to get it all in one shot. Standing in the street to get a good picture is possible if it wasn't directly in sight of a freeway off ramp, so try and be safe.
Nearby
Passing from Downtown Austin to East Austin is relatively safe but this area is known for having a large homeless community and can be a little dicey at times. There are some great food options like the immaculate Easy Tiger Bakery, Koriente, which everyone raves about, and Camino el Camino whose burgers I've heard are some of the best in town.
I love you so much
The story behind "I love you so much" is that musician Amy Cook painted the phrase on the side of her partner's business Jo's Coffee to make her happier. The handwritten red on green text has been iconic since and become a great place to grab an iced turbo, seriously try it, and a photo. It's made all of Austin happier since.
Tips
Parking on Congress Ave. is pretty tough. There are a lot of spots on Congress that you'll have to literally back into, it's safer, but most locals park in the adjacent neighborhoods and walk over.
Nearby
There are a couple of awesome murals nearby I love you so much too. The Fred Rodgers by Home Slice and the Willie near STAG provisions (see below). If your by Home Slice their pizza is pretty amazing as well and you have Amy's Ice Cream, get the mexican vanilla, and the Continental Club which I hear great things about.
Honorable Mentions
There are so many good murals in town it's unfair to make such a short list. Here are a bunch of quick takes on the rest.
Any shortlist is going to miss a bunch of great things you couldn't fit in. Anything else you think should be on the list?